TCO22-15
Transparent Conducting Oxide Coated Glass
TCO22-15 is a 2.2 mm thick sodalime glass coated on one side with a fluorine doped tin oxide (SnO2:F) layer ("FTO" glass). The sheet resistance of the FTO layer is ~15 ohm/square and its transmission is > 80 % from 400 to 700 nm.
TCO22-15 is available for retail in different sizes, from 5 x 5 to 30 x 30 cm. Preferential prices are available for rational purchase of this material.
Our TCO coating service can also apply transparent conductive coatings on other substrates, such as quartz and extra thin glass. Other shapes like domes and cylinders can be coated in the inside as well.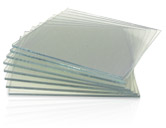 Transmission spectrum of TCO22-15
| | |
| --- | --- |
| Product designation: | TCO22-15 |
| Glass type: | sodalime |
| Glass thickness: | 2.2 mm |
| Conducting layer: | FTO (fluorine tin oxide, SnO2:F) |
| Resistivity: | ~15 ohm/square |
| Transmission: | > 80 % from 400 to 700 nm |